How to Crack AWS Solutions Architect Professional exam in 2022
Do you know that an AWS certified solutions architect professional is one of the most popular and well-paid jobs in the IT industry? You will need to crack the AWS Solutions Architect Professional exam to achieve this certification. 
To be eligible for an AWS certification, you must have specialised expertise to demonstrate to peers and employers. If you're certified, you may also improve your company's understanding of utilising AWS services. 
The certifications for AWS are programs that may be tailored toward a particular role. They're primarily aimed at solution architects, AWS Cloud Developer, and system operations staff in this regard. There are three beginner roles, three intermediate roles, and three expert roles for each position. While having prior knowledge before the AWS Training and Certification exam isn't necessary, they provide excellent assistance.
What Is AWS Solution Architect Certification?
The AWS solution architect certification and AWS certification training validates your technical abilities and lets you get acquainted with the AWS ecosystem and essential services.
The Project Management Professional credential is now split into two streams, Associate and Pro. To earn this certification, you must pass the associate and professional levels of study. Many organisations will be eager to hire you after you've completed the AWS certification.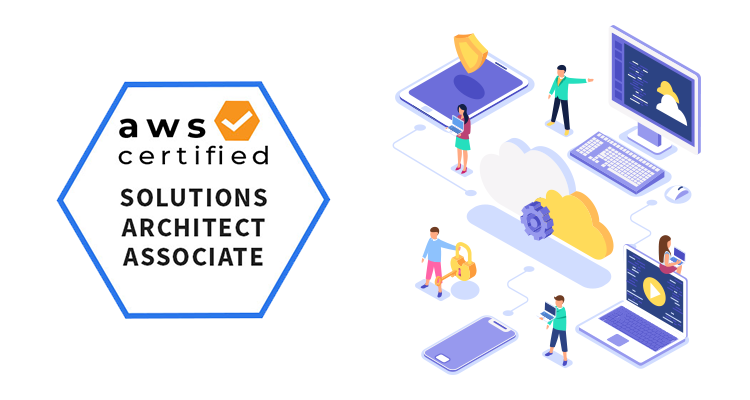 Why AWS Solution Architect Certification?
If you have no idea what an AWS solution architect certification is, this will likely be the first thing you ask. You'll have many more opportunities to demonstrate and promote your IT abilities if you obtain an AWS solution architect certification.
Credibility
A recognized cloud security certification will increase your credibility, allowing you to seek more employment opportunities and interview invites.
Improve your skills
There's a lot of money to be made in the AWS cloud management market, and the demand for competent people is rising. To stand out from the rest of the crowd and improve your skill set, this credential in cloud computing is exactly what you need to do.
Higher Pay
According to a poll done in 2018, the average AWS-certified solution architect's salary is $100,000 per year. You've got it exactly right. Becoming a solution architect will enhance your reputation and fill your wallet.
Recertification
With new and innovative technology advancements, AWS updates the exam curriculum every 2-3 years. This ensures that you stay up to date and maintain your skillset. There are two distinct tracks to this certification, as previously said.
Preparation Tips for AWS Solutions Architect Professional exam 
Now that you've seen how to do it, let's go through the specifics of preparing for an AWS Certified Solutions Architect examination, even if you don't have any prior IT or AWS experience.
Join the AWS community
The first step is to join the AWS community. This platform allows experts to find valuable resources, connect with other professionals, and answer your questions.
Use AWS Free Tier
AWS now offers a free tier for all its new users, which gives you access to many of its services free of charge. You can use this to familiarise yourself with the various tools and features offered by AWS.
Use online resources
Many excellent online resources can help you prepare for the exam. For example, study guides, video tutorials, practice exams, etc., and online learning platforms can be found.
Attend an in-person AWS Certification course training 
If you want more structured and guided learning, you can attend an in-person training course by AWS. These courses are conducted by AWS-certified instructors and will teach you everything you need to know to pass the examination.
Get hands-on experience
The best way to prepare for the test is to get hands-on experience with AWS. You can work on projects or participate in competitions like the AWS Challenge. This helps you prepare for the exam and give you a chance to win prizes and enhance your portfolio.
Schedule your exam
Once you feel confident enough about your preparation, go ahead and schedule your examination. You can take the test at any of the authorised testing centres around the world.
Exam Overview
Level: Professional

Length: 180 minutes

Cost: 300 USD

Format: 75 questions, either multiple choice or multiple response

Delivery method: Pearson VUE and PSI; testing center or online proctored exam

Languages offered: English, French, German, Italian, Japanese, Korean, Portuguese, Simplified Chinese, and Spanish.
Conclusion 
Although no one can guarantee your success, if you follow the advice in this article and use the free resources as well as online courses to supplement your studies, you will be as prepared as possible to pass the AWS Certified Solutions Architect Professional exam in 2022. This AWS DevOps cloud certification is one of the best credentials with scope in the future. Best of luck on your AWS certification journey.
A detailed insight into the CFA curriculum
The Chartered Financial Analyst is a designation that speaks volumes for it is a distinctive credential that garners respect, hefty salaries, and experience for investment professionals. It is known worldwide that clearing the CFA exams is no child's play, it requires complete dedication as the test does not only test the text knowledge but also assesses the perseverance, diligence, and willpower of the candidate. The current program under the CFA curriculum is designed for self-study and distance learning to finally appear for an online exam. The CFA program consists of three levels: Cfa level 1, CFA level II, and CFA level III. The candidates appearing for the exams have to clear all the levels and must adhere to certain work requirements as posed by the CFA Institute. The curriculum for each level is different and is designed to test a wide range of skills that are relevant for investment professionals.
The CFA program remains updated with time and focuses on the knowledge that evolves with the needs of the industry, and is relevant and rigorous. The CFA institute identifies the industry trends and prepares the curriculum in a way that requires comprehensive knowledge, contemporary industry practices, and real-world application to be relevant to the program.
The Exam Curriculum: 
The CFA exam concentrates on the basic knowledge and understanding of the concepts and tools important for investment valuation and portfolio management. The CFA program curriculum covers 10 topic areas that have different weightage in the exam. Here we will discuss CFA level 1 topics and their weightage.
Ethics and Professional Standards- This section comes with a weightage of 15% to 20% and has about 27 to 36 questions to attempt. The section covers the code of ethics, professional standards, and Global Investment Performance Standards (GIPS). Preparing this section well in level 1 can be advantageous for levels II and III preparations.
Quantitative Methods – The quantitative methods section explores concepts and techniques required for financial analysis and investment decision-making. This section considers both statistics and probability theory in calibrating the risk for investment decision-making.
Economics- Cfa level 1 economics tests the knowledge of basic micro and macroeconomic concepts. The candidates are introduced to the supply and demand analysis of individual consumers and firms, and the various market structure to analyze the economic growth structures.
Financial Statement Analysis- This section has a weightage of 13% to 17% and deals with financial reporting procedures and the standards of financial reporting disclosures. In the exam, the candidates are asked to analyze and interpret financial statements, revenue recognition, taxes, etc.
Corporate Issuers- This section introduces the candidates to corporate governance and stakeholder management in relation to investment and financial decisions. The section also highlights the impacts of the environmental and social considerations while investing.
Equity Investments – This sections weights around 10% to 12% of the questions and deals with the equity investments, security markets, and indexes and analyzes the basic equity valuation models. The questions are basically based on valuing and analyzing companies.
Fixed Income- This section deals with calculating the values of the fixed-income securities, measuring yields, securitizing the assets, principles of credit analysis, and the fundamentals of bond returns and risks. The candidates require to know the characteristics of various fixed-income securities and their pricing.
Derivatives- The Derivatives section is introduced only in Cfa level 1 and candidates are tested based on futures, forwards, swaps, hedging, and options techniques using the derivates. The program helps in building the conceptual framework to understand the derivatives market.
Alternative Investments- This section explores alternative investments like private equity, hedge, commodities, real estate, and infrastructure. Alternative Investments level 1 only introduces the topic and the in-depth knowledge is offered in levels II and III.
Portfolio Management and Wealth Planning- This section is only introduced in level 1 and deals with the fundamentals of portfolio and risk management along with portfolio planning and construction and risk and return management. To identify the optimal risk in portfolios the capital asset pricing model is used.
The Final Word:
The CFA program is structured to equip the candidate with the expertise and skills required for investment analysis. The exam tests the fundamentals of investing tools, portfolio management, wealth planning, and valuing assets. By completing the CFA program, the candidate can earn the right to use the designation of "Chartered Financial Analyst" and will be qualified to work in executive positions in investment analysis and management. However, the most important step in clearing the levels is preparation. There are many such institutes that are developed to help with the preparation of CFA exams or particular subjects such as Cfa level 1 economics, etc. Since it is a globally recognized credential in the investment management industry, it ensures that a CFA charter holder has the knowledge and commitment to deal with the complexities of contemporary investments. Moreover, the structurally designed and industrially relevant curriculum prepares the CFA charter for the challenges of the investment market.
Leveraging Digital Resources and Education for Small Company Growth.
Neighborhood Benefit: The Energy of Small Company.
The Energy of Small Company
Small companies enjoy a critical position in the U.S. economy by providing money, developing wealth, and creating upward flexibility across racial, ethnic, and gender lines. A robust small business environment brings higher incomes for owners, more outstanding outcomes for their loved ones, increased local and regional towns, and substantial advantages for the national economy. Business wages are usually greater than — even double — the federal minimum wage, and when these companies grow and employ, they build resilience inside their communities.1 AEO has even explained that little companies "use an inherently boundless capacity to revitalize America's employment and economic health.
Organizations that use five or fewer people, called microbusinesses, have an outsized existence within the little company community and in U.S. communities. Microbusinesses constitute 92% of U.S. companies and are in charge of more than 41 million U.S. jobs.3 GoDaddy study found that each new micro business included with the U.S. economy per 100 citizens increases annual home median money by $485.4. In addition, the GoDaddy Opportunity Ahead study reports that two careers are created for every entrepreneur, whether via strong selecting, delivering materials, or getting income to the community. In 2011, AEO found that if one in three microbusinesses were to each employ a single employee, the U.S. could achieve full employment.
The trail of self-employment gives autonomy, flexibility, and possible earnings that can be of specific price to individuals from underserved towns, especially women and folks of color. The study by AEO finds the median internet price of Latinx company owners is nearly five instances
greater than that of Latinx non-business owners. For African-American women, the vast difference is more than tenfold6. These advantages produce small businesses a stylish job way for individuals from underrepresented communities. A study by GoDaddy revealed that company owners in marginalized towns were more interested than entrepreneurs from non-marginalized cities in transforming their companies from extra to a principal source of money: African-American National respondents were 250% more likely, women 68% more likely, and foreign-born company owners 150% more likely.
Fortuitously, it has never been simpler to begin a little business. There is a minimal buffer to entry to getting self-employed in the present digitized economy. The choice offers a desirable way toward financial independence for those seeking a variable alternative to traditional employment. Aspiring company owners could be of any age, don't need a school level, and may often begin a company with a tiny preliminary expense, frequently using personal assets. The small company community contains not just small professionals and established, middle-aged entrepreneurs — the median age of small business owners is 50 — but additional seniors seeking out following occupations or perhaps a more active retirement. The charm and sustainability of everyday entrepreneurism lie in its affordability and accessibility and within a growing
desire to experience economic empowerment and autonomy. These thoughts are based on a changing economic environment for some small business owners, while others experience a demanding push toward localism and community.
As policymakers, community organizations, and others have a more extraordinary fascination with the continuing future of function in a rapidly changing economy. They ought to stay alert to the truth that small companies can make remarkable resilience, development, and an economic chance for towns around the country.